Tandem Training Blog - All Posts
Did you know that Act! can push any list to excel?  That's right, the contact list, Opportunity list, Group List, Company List, Task List, and beginning in version 17.1, the History list can all be exported to excel.  Once the data is in excel, you can use the data menu in excel to manipulate and filter your data for easy digestion.
Referral Report from the History List View
Fields Used
Record Manager
Date
Contact
Company
Result
Export this data to Excel
| | |
| --- | --- |
| From this list, in Excel go to Insert, Pivot Table, Select New Worksheet | |
| You can configure the pivot table to view just the data you want | |
| Select the History types you want on your report | |
| Here is your finished Report | |
The first step for Act! users is getting the data in effectively. Use history (CTRL-H), not notes. Why ? Notes don't allow Act! to do all the analysis. But a history classifies entries as "Call Completed", "Meeting Held" or "On-Site Presentation". Then, the report tools count history entries by type, date, sales rep etc.
In version 17.1+, you can change the default result from "Appointment Completed" to something else like "Call Completed". Here is how:
Tools -> Preferences
Click Startup Tab
Under History, select a history type as default
Then, you can create an ad hoc report using the History List View (v16+ )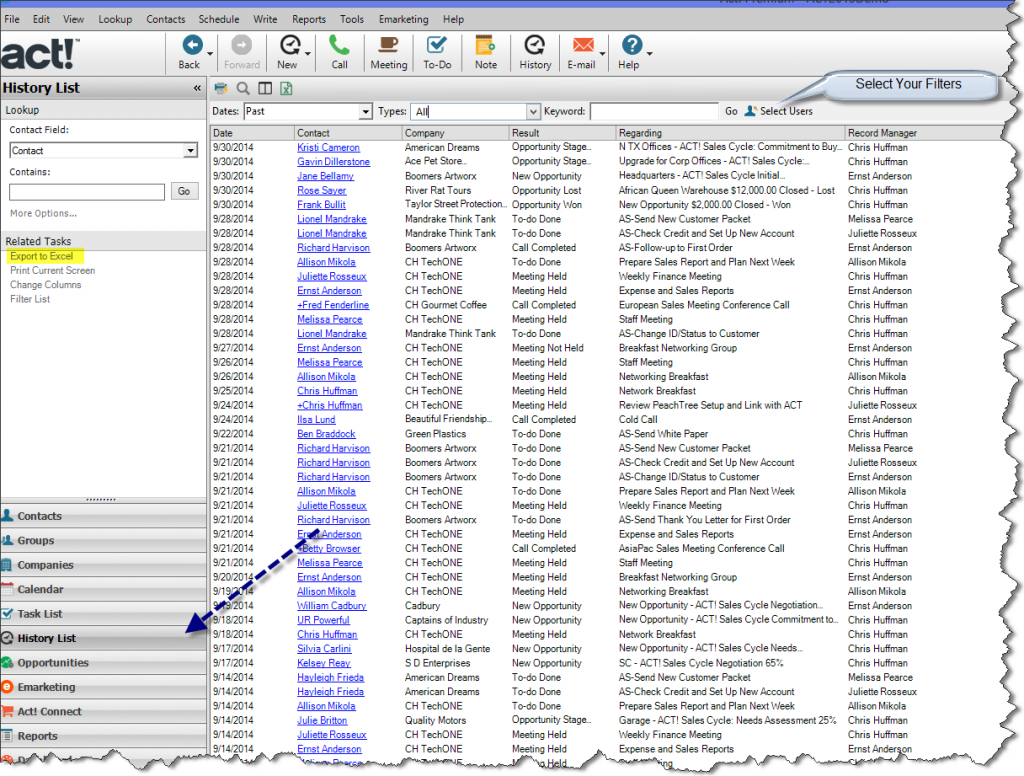 This list can be exported to Excel for easy data minipulation.
Published with Permission from Mark Mondo.  Originally at http://www.mondocrm.com/act-reports-easy-first-step/
If you are a looking for the download links for ACT software. Here they are.
Download Page for Act! Premium
or for Pro
If you want to test the latest version of Act! before you purchase, check out our demo site at http://GoTryAct.com
Quotewerks has a built in contact manager, but it really isn't a CRM like Act.  We suggest using a Contact management tool like ACT rather than just the built in Rol-A Dex that comes with Quotewerks.  Here's why.
A CRM is going to provide buckets or holding area for a variety of bits of information regarding the relationship between your company and the people and organizations you are selling to.  In Act!, this includes people (contacts), Companies, meetings and phone calls (Tasks) as well as information about the deals (Opportunities) you are working on
In terms of the flow between Act! and Quotewerks, the information from the contact (or person) is captured in Act! and flows to Quotewerks when the quote is created.  Basic contact information along with any additional contact fields can all be pushed from Act! into Quotewerks when the Quote is created.
Specific issues with the Citrix receiver (and other applications) can sometimes occur when bringing a computer out of sleep or hibernation.  It is not uncommon for various programs to not properly start or fully start after awakening from this low power state.  This article is designed to help increase the frequency of recovering from sleep/hibernation.
It is really not recommended to attempt to put your computer to sleep if you expect all programs to start again normally 100% of the time.
Easiest Fry, – Just Reboot the computer – Rebooting gives your a system a fresh start and allows the computer to close down normally and start the programs it requires in a normal systematic manner.  This is most reliable and simplest solution.
Close the Citrix receiver and reopen.
Log off and log back on to the Citrix receiver.